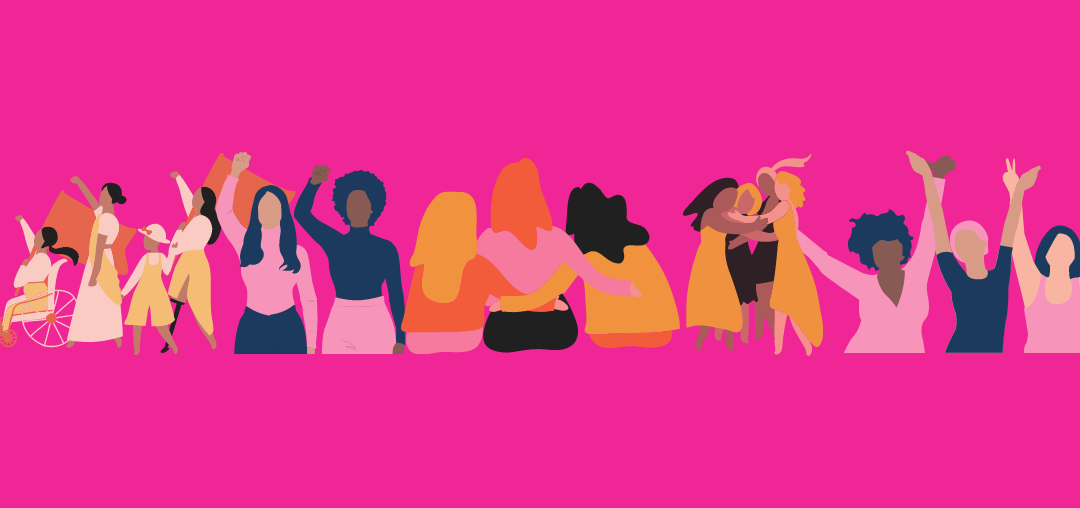 The Headlines Are Scary, The Future Doesn't Have to Be:
Women @ Work in 2020
Kamala Harris' attempt to make history – Herstory – has been accomplished.
At the victory rally, parents held their daughters aloft on their shoulders to see first-hand, their future.
Representation matters.
For women, and specifically women of color, her ascent was an unforgettable moment. But it's so long overdue, seeing a female Vice-President Elect onstage felt natural, some might say, normal.
And normal, in a year brought to you by the dumpster fire that is 2020, is quite an accomplishment.
While one glass ceiling was shattered – many others across the political landscape and beyond have been seemingly reinforced. It's no accident that in a year of purported advancement for women, oppositional forces reared their head with tremendous vigor.
We lost RBG – a historic, trailblazing champion for women and women's rights.
We voted in record numbers but still face suppression and disenfranchisement – in the same year we celebrate the 100th anniversary of the 19th Amendment.
And then came Covid-19.
One of many headlines that leapt off the page, was a Rolling Stone piece that declared: "Coronavirus Is Killing the Working Mother."
Women comprise 67% of the global health force – those putting themselves at most risk.
Women are more likely to be in service industries like retail, travel and hospitality, which have taken a huge economic downturn and borne the brunt of job losses.
Women face the majority of online and digital abuse.
Women are more likely to be living with emotional and physical abusers.
Women are more likely to be juggling both parental and work responsibilities. And more likely to be in single parent households where this dangerously collides with their role as sole breadwinner.
Women are looking at decades of progress – erased. Up to 25% are considering downshifting their work responsibilities or leaving the workforce altogether. [McKinsey]
And men?
Men are 3x more likely (34% vs 9%) to have been promoted since March.
In the first two months of 2020, women briefly overtook men in terms of representation in the workforce; A pattern that started in the last month of 2019 and marked a hard-fought victory to claw back the gains lost during the financial crisis.
That time is over.
Women's workforce participation rate is at the lowest it has been since the 80's. To quantify that, there are 2.2 million fewer women in the workforce today than when the crisis began.
For the first time in McKinsey's six years of studying women in the workplace, there are more women exiting corporate America than men. And it means there are not only fewer women in leadership, but there are also fewer women on track to become future leaders.
Why Be Optimistic?
This is dire stuff. But the pandemic is also forcing the largest social experiment around workplace issues in the history of our country. And in real-time, it's demonstrating to both women and men how our antiquated system and our economy – to its own detriment – works against the needs and realities of working parents.
As Allison Holder of Equal Measures 2030 wrote in US News & World Report, the pandemic could "provide a platform for radical social change."
This is a chance to imagine possibilities. But it will take a "primal scream" from citizen/employees.
The good news is that most corporate communities are more committed than ever to gender diversity. But their feet (and governments') have to be held to the fire.
Imagine subsidized child care, subsidized or universal preschool, universal family leave and accessible, affordable healthcare. What could these programs have meant to both single-parents and working parents for the last nine months?
During Studio B's most recent Vivid Women Series – Inspiring Latinas: Community. Career. Culture, it was discussed that now is the time for women to 'check in on each other' and foster real dialogue around ways to overcome these challenges. Women need to leverage their voice inside the home and their considerable political power outside the home.
There is a rise in alternative approaches to corporate life that includes women pivoting toward entrepreneurial endeavors. Over the last several months, the number of women-owned businesses continue to grow.
And there are positive implications for working women within the corporate world whose need for flexible hours and work for home policies were previously ignored.
As McKinsey noted, companies that take gender representation seriously are 50% more likely to outperform their competitors.
The workforce needs women.
And the world needs female leaders.
Infection rates and fatality rates are lower in countries with female heads of state. That's no accident.
While women, especially low-income women with children, have faced unimaginable challenges in 2020, there is an opportunity to come out from this experience with a renewed hope for real change.
It comes down to will.
And we can do this, together.